Loading
To use the Map you will need to SUBSCRIBE.
This will allow full access (depending on subscription) to Solar, Wind and Waste projects.
The map below then becomes interactive and you will have a full list of over 1,400 solar projects
Browse with access to exact location, associated companies, DECC (Now BEIS) data and OFGEM data including REGO / RO data as it becomes available.
CSV and KML data downloads.
You are able to download bulk data for your use. Includes cross referencing between:
Renewables Map data,
DECC and OFGEM data sets.
Start by REGISTERING for free which provides full access to Hydro and Wave datasets including CSV and KML downloads.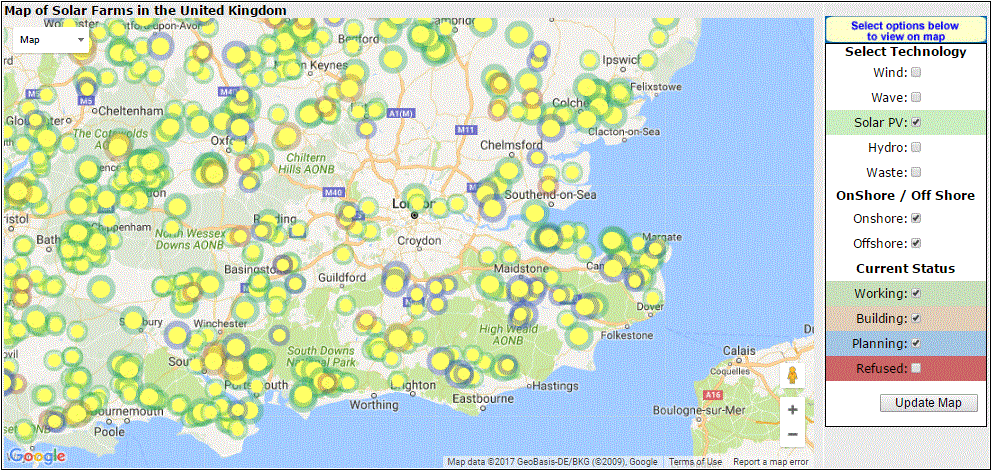 Not Logged on, Max pages: 10( 1 Seen ) ID:1 Ind:0 IP: 54.81.127.179

Currently showing: generating; building; planning; Both on and offshore For All UK
Total Capacity shown in MW = 0 Total Installations shown = 0
Last update on site = 20/03/2018
The aim is to continually improve this resource. If you can provide additional information such as relevant links, perhaps the status of the project, please use the form below.

Any additional information or corrections always gratefully accepted.
Site:


Comment:



Optional

name/email and any other contact information, I like to say thanks:




Before submitting, please enter this code
.

All letters to be entered as lower case:
Sadly, this is necessary to reduce the volume of inappropriate emails that we receive.

Current News Listing

A solar farm the size of around 170 football pitches could be constructed on the Gwent Levels across a site belonging to nine landowners.

An application submitted by the Gwent Farmers Community Solar Scheme seeks to erect up to 245,000 panels on 345 acres of land south of the former Llanwern Steelworks in Newport.

orth Kesteven district council has approved plans by Pegasus Group to extend by 49.9MW the Branston solar farm near Lincoln in England.

Civil engineering contractor Jones Bros has secured a £20m contract to build the infrastructure for Clocaenog Forest Wind Farm.

LONDON (Reuters) - Power generation from Britainís wind farms hit a record 14.2 gigawatts (GW) on March 17, National Grid said on Monday.

©2013 Simon Mallett