Loading
To use the Map you will need to SUBSCRIBE.
This will allow full access (depending on subscription) to Solar, Wind and Waste projects.
The map below then becomes interactive and you will have a full list of over 1,400 solar projects
Browse with access to exact location, associated companies, DECC (Now BEIS) data and OFGEM data including REGO / RO data as it becomes available.
CSV and KML data downloads.
You are able to download bulk data for your use. Includes cross referencing between:
Renewables Map data,
DECC and OFGEM data sets.
Start by REGISTERING for free which provides full access to Hydro and Wave datasets including CSV and KML downloads.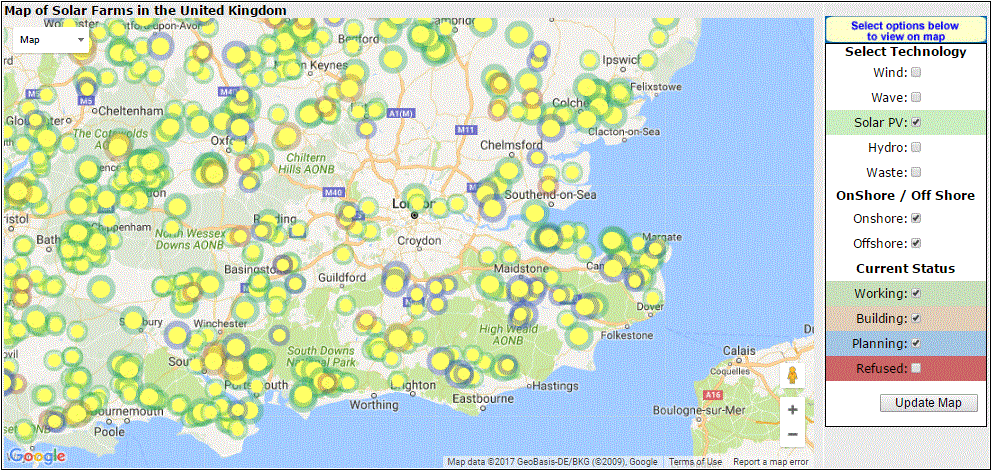 Not Logged on, Max pages: 10( 1 Seen ) ID:1 Ind:0
1 - 10 - YES

Currently showing: generating; building; planning; Both on and offshore For All UK
Total Capacity shown in MW = 0 Total Installations shown = 0
Last update on site = 12/12/2017
The aim is to continually improve this resource. If you can provide additional information such as relevant links, perhaps the status of the project, please use the form below.

Any additional information or corrections always gratefully accepted.
Site:


Comment:



Optional

name/email and any other contact information, I like to say thanks:




Before submitting, please enter this code
.

All letters to be entered as lower case:
Sadly, this is necessary to reduce the volume of inappropriate emails that we receive.

Current News Listing

Gilkes Energy is pleased to announce that construction of the 0.5MW Aberchalder Hydro project has started.
---

The development on the Abhainn Shalachain river is now producing power to the National Grid and revenue which can be used locally.
---

A 1.76km pipe transfers water from two intakes to the powerhouse. The vertical drop, known as the 'Gross Head' of the project is 187m.
---

Siemens announced Wednesday that it had received an order for 102 of its 7 MW turbines, each with a rotor diameter of 154 meters, for the East Anglia ONE
---

More than 400 wind turbines could be built off the Suffolk and Norfolk coast.
---
©2013 Simon Mallett